Swedish Massage
The Swedish massage aims to mobilize the muscular mass in order to free it of all contractures and to promote blood and lymphatic circulation. Movements such as: caressing, gentle pressing, kneading, contractions and percussions are done vigorously or gently according to your condition and your needs.
Against:
Muscular pain
Joint pain
Fatigue
Stress
For:
Dissolving muscle tension
Increasing your mobility and overall comfort
Blood circulation (venous return)
Easing joints
Ultimate relaxation
Children
Children LOVE Swedish massages and relax under caring hands.
Healing recurrent ear and sinus infections
ALSO, craniosacral techniques and manual lymphatic drainage are used to stimulate the child's immune system so that it heals itself normally and quickly.
For:
De-congesting the sinuses, throat and ears
Better sleep
Against:
Ear infection
Sinus infection
Tonsillitis
Recurring cold and flu
Hyper-activity
Lymphatic drainage and cranial technique
relieves discomfort related to common infections in children
to decongest
rests
improves sleep
Expectant Mothers
FOR MORE COMFORT
Yes, it's possible !
Receive your massage in the preferred position. Without pressure and where the blood and lymphatic circulation is optimal.
Rest and relaxation guaranteed
Therapists have been trained to use specialized techniques appropriate for the needs of an expectant mother that is totally safe.
Against:
Back pain
Edema (swelling)
Pregnancy discomforts
Fatigue
For:
Blood and lymphatic circulation
Sleep
Calming
DUO
Receive one of our treatments together! Share a moment of pure joy with your loved one offered by our massage therapists in a welcoming atmosphere designed for relaxation.
Four Hands Massage
(It is the ultimate experience in massage therapy)
Experience the summit of relaxation by leaving your sore muscles under the care of two of our massage therapists.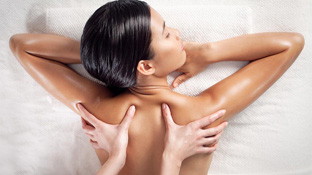 Deep Tissue
The maneuvers performed in this massage aim to relax the deepest structures of the musculoskeletal system. Postural and functional imbalances cause pressures, forcing the structures (muscles, tendons, ligaments, fasica...) to expand and contract.
A vicious cycle is born: This is a response to the worsening tensions and stress caused by bad work habits, poor posture and/or old traumas, which maintain and amplify the imbalances.
Against:
Chronic pain and discomfort
Fatigue and feeling of resistance
For:
Relaxing the fascias (deep connective tissue)
Balance between the sympathetic and parasympathetic nervous systems
Balance of the endocrine system (hormonal)
Regaining structural and postural integrity
Invoking deep relaxation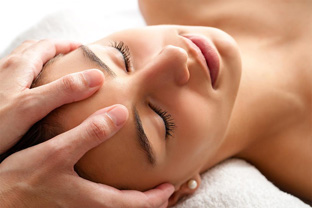 Craniosacral Technique
This is mainly done by the therapist who works with your head and pelvis to reharmonize movement of the cerebrospinal fluid (body fluid found in the brain and spinal cord). This massage technique aims to reduce congestion and free the nervous system of any harmful pressure.
It helps ease most head and spine discomforts, whether minor or major ones and relieves your nervous system of pressure while promoting the harmonious movements of the bones of the skull, spine and pelvis.
Against:
Otitis
Sinusitis
Tonsillitis
Recurrent colds and flu
Hyperactivity
For:
Decongesting the sinus, throat and ears.
Better sleep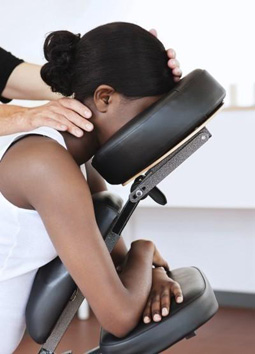 Workplace / Event
Chair Massage:
Energy - Concentration - Productivity
These "energy restoration" sessions are adapted to business professionals that allow you and your colleagues to feel good and be more creative, more concentrated and less stressed... Not to mention that it is a great way to reward your employees and your loyal customers.
Increases productivity
Reduce fatigue and stress at work
Prevent workplace accidents
Reduce absences
To make an appointment on,
or call at (514) 943-5463